Download Information About Mineral Resources
Service that allows you to download various information about Mineral Resources.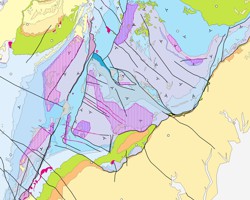 Cartography of Ornamental Limestones of the Maciço Calcário Estremenho
Year : 2014
The detailed geological mapping of the main ornamental limestone producing areas of the Maciço Calcário Estremenho in Portugal was prepared within the scope of Activity 1 – Sustainable Exploitation of Resources in the MCE of the project Environmental Sustainability of the Extractive Industry. This project, funded by European Structural Funds, was coordinated by ASSIMAGRA – Portuguese Association of Mineral Resources Industry. The disclosed geological maps allow us to know the spatial distribution of the limestone facies suitable for the production of ornamental limestones that have been in exploitation for about 3 decades and to evaluate the resources available in each of the 5 producing areas, which are integrated in the Natural Park of Serras de Aire e Candeeiros: Cabeça Veada, Codaçal, Moleanos, Pé da Pedreira and Portela das Salgueiras. These maps are the main support for mine planning by the extractive sector and also support the public entities responsible for land use planning. Still in the same project, but in the scope a general evaluation of the potentialities in ornamental limestones of the MCE, geological mapping at 1:25000 scale of other producing areas was also carried out, namely for the Moleanos - Ataíja de Cima and Moita do Poço regions in the municipality of Alcobaça and the region of Casal Farto in the municipality of Fátima.