Download Information About Energy Resources
Service that allows you to download free of charge various information about Energy Resources.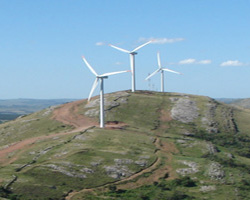 Atlas of Wind Potential of Continental Portugal
Year : 2019
The Atlas of Wind Potential of Mainland Portugal illustrates, for the various regions of the country, the energy resource of wind and the consequent estimates of wind production, as well as other relevant statistical parameters. Thus, it is a powerful preliminary tool, not only for the prior assessment of the wind potential, but also as an auxiliary instrument for deciding future investments in experimental campaigns for wind characterization and planning of electricity grids and other infrastructures.