Download Information About Energy Resources
Service that allows you to download free of charge various information about Energy Resources.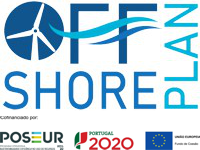 OffshorePlan Project – Planning the Instalation of Offshore Renewable Energy systems in Portugal
Year : 2019
This project aims to promote the implementation of systems to exploit offshore renewable energies on the Portuguese Coast. To achieve this, three main objectives were set: Obj1: To identify the renewable energy resources (var-RES)in the Portuguese Coast (offshore wind and waves -mapping and corresponding validation); Obj2: Impact of offshorevar-RES generation in the national electricity system (2035); Estimation of the temporal evolution of the reception capacity of the national electric grid for the production from offshore renewable sources (2035); Identification of the optimal participation of offshore wind generation in a (100%) renewable (2035) power generation system,and; Obj3:Technical, economic and social analysis of the use of energy at sea (hierarchy of renewable energy technologies at offshore regionsthrough its LCOE; Socio-economic and value chain analysis).